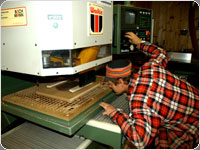 The CNC Router
Recently we have been able to offer a skill which gives many new options.

To machine-finish by routing offers the possibility to create pieces of work of almost any shape, with great precision and for medium to big scale production.

Thus we have the possibility to carry out your most extravagant projects.